ALPHABET ART:


Colouring Peter Daglish's Colouring Book



Text by Michal Kozlowski
In 1970, while teaching at the University of Victoria, Peter Daglish, a British artist whose work is housed at the Tate Modern, the National Gallery of Canada and other collections, created a set of ten lithographed panels, 21x31", printed on fine art paper and titled My ABC Colouring Book.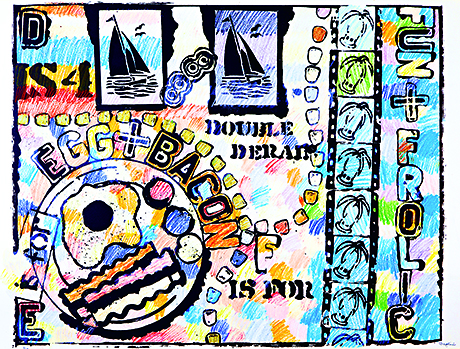 Each panel illuminates two or three letters of the alphabet—A, B, C on one, D, E, F on another and so on—and each letter is given a simple sentence in the tradition of a child's colouring book: "A is for Ailie," "F is for fun+frolic," "S is 4 ship." The letters are further "illuminated" by images, words and patterns that make up a kind of "non-alphabetical vocabulary" drawn from lexicons of language, food, transportation, clothing, animals, art and literature: Ubu, Balthus, Ionesco, a reclining Odalisque as favoured by Ingres, the neo-classical painter of the nineteenth century.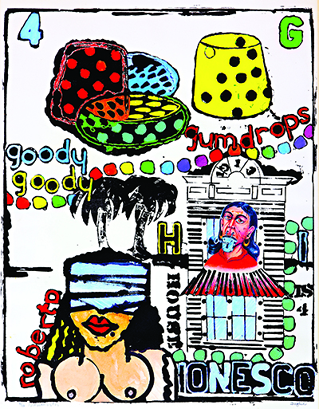 Recurring motifs include sailboats, bare-breasted women, zebras, palm trees and parrots, expressed with a minimal deployment of geometric shapes. Some of the images—cow, whoopee wagon, palm tree, for example—also appeared in three dimensions in Daglish's installation art of the 1960s and '70s. The resulting My ABC Colouring Book is at once a personal document and a beautiful, layered rendering of alphabet life.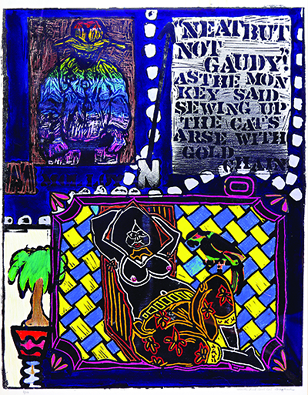 Daglish limited the edition of his colouring book to ten copies. Copy number 3, displayed here, was purchased by Herb Donaldson, a highway engineer and art collector living in West Vancouver, at the suggestion of his daughter Sue, who was an art history student and a friend of Daglish. Donaldson then commissioned a number of younger west coast artists to colour individual pages of the colouring book in any way that suited them. Several of these contributing artists were central to the founding of the Western Front, which is still in operation today as Canada's oldest artist-run space. According to the Donaldson inventory, each artist participating in the project received a fee of seventy-five dollars for colouring a single page. (In the early '70s, seventy-five dollars could buy 180 bottles of beer or 150 packs of smokes; a veal cutlet dinner with mashed potatoes, peas, Jell-O dessert and bottomless coffee could be had for $1.80, and a full breakfast of bacon and eggs cost a dollar.) Some of the participating artists barely recall the project today (after forty-three years), but they do remember Peter Daglish, whose work they know well. Some recall that it took a day or so to do the colouring once they had settled on a colouring motif. Sue Donaldson recalls that her father made several trips over the next few years from his West Vancouver home to the low-rent areas of Kitsilano and Point Grey in Vancouver (where most of the artists lived) to collect the finished pages, or to check on their progress.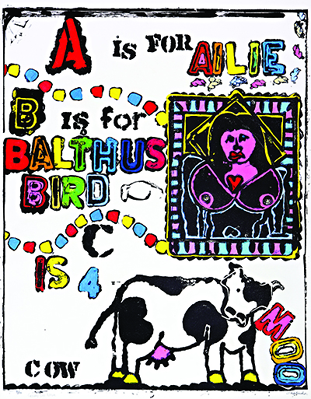 Herb Donaldson purchased his copy of the colouring book from Peter Daglish in 1970; all of the pages were coloured by 1975 and the project was complete. The Donaldson copy is an important piece of art history that brings together the work of Peter Daglish, an established, older artist with a major reputation in printmaking, and the work of the participating artists, who were then at the forefront of performance art, visual art, installation art and mail art and went on to major careers in experimental art practice. (They are identified in brief biographies in the captions above.)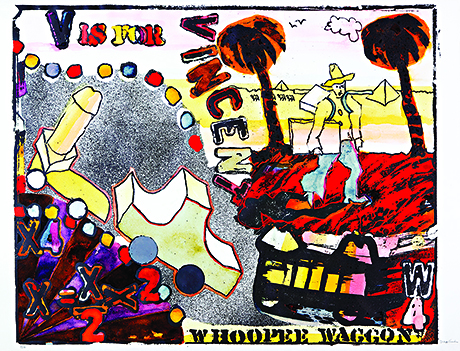 Alphabet art was a big thing in the early '70s. The artists Michael Morris (JKL) and Vincent Trasov (VWX) coordinated a project that produced the peanut alphabet, leopard print alphabet, sponge dance alphabet, a photo alphabet and other alphabets, by Trasov, Glenn Lewis (DEF), Eric Metcalfe (PQR), Gary Lee-Nova (ABC), Paul Oberst, Michael Henry, Gerry Gilbert and other well-known artists. Many of these were printed by Randy Gledhill, who had studied in Winnipeg at the Grand Western Canadian Screen Shop, and who set up a silkscreening studio in Vancouver at the New Era Social Club. Visual poetry had already taken strong hold on the West Coast in the early 1960s with bill bissett, an avant-garde poet producing concrete poetry on a typewriter, and Judith Copithorne, who produced handwritten and hand-drawn poems with shapes, letters and words (as can be seen in her 1964 poem "Eye Alphabet"). In 1966 the American pop artist Robert Indiana issued his silkscreen edition of LOVE, perhaps the most recognizable example of alphabet art today (it was reproduced on the American 8-cent stamp in 1973). In 1969, Concrete Poetry, a major exhibition at UBC Fine Arts Gallery, featured text art and concrete poetry from Canadian and international artists and poets, including Michael Morris, Ray Johnson (a central figure in mail art), Ian Wallace (now associated with photoconceptualism), bill bissett and the Toronto poet Stephen Scobie.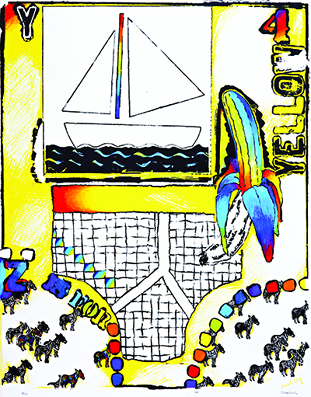 Peter Daglish, age eighty-two, lives in London, UK, and continues to produce and exhibit new work. Of the twelve artists who coloured the pages of the Donaldson copy of his colouring book, three were lost to the AIDS epidemic in the 1980s; others have gone on to careers in art, and at least one has made public health her life work. Peter Daglish recalls that he kept one set of the edition for himself and gave away a few copies to friends and fellow artists. One copy of the colouring book was covered in hot pink and aqua green sequins and feathers by Michael Morris and Vincent Trasov and is housed in their archive in Vancouver. Trasov recalls seeing a version of the colouring book at the Burnaby Art Gallery some years ago, but the gallery has no record of the showing.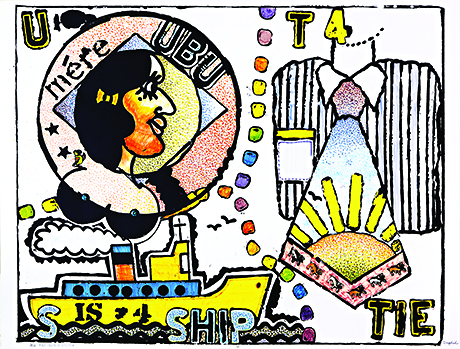 The Donaldson copy of My ABC Colouring Book, designed and printed by Peter Daglish and coloured by several contributing artists, represents an important intersection of artists, styles of art and artistic practices. It will be displayed at the Memory Festival at the Roundhouse Community Centre in Vancouver, November 4−10, 2013, with some of the contributing artists in attendance.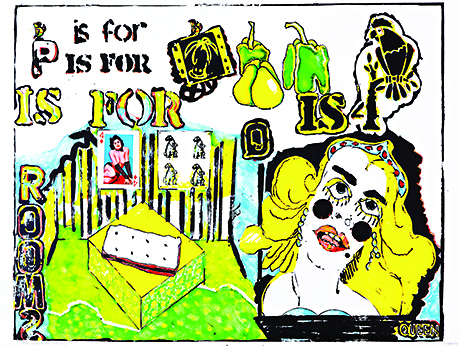 ---
Michal Kozlowski is Assistant Publisher at Geist. He is the author of the children's book Louis the Tiger Who Came from the Sea (Annick Press) and several fiction and non-fiction stories in Geist. Read his work at geist.com.
Special thanks to the City of Vancouver Cultural Services for their support of this project.
Order your copy of Geist 90 today, featuring this photo essay and more.
go to geist.com